Features:
Ultrasonic high frequency for high sterilization rate removes dirt effectively.
Turbine interacts with ultrasonic, clean clothes efficiently and quickly.
The washing model can be adjustable according to needs.
Automatic shutdown after working for 30 minutes.
Shell is made of eco-friendly ABS, non-toxic, firm, and wear-resistant.
Water-saving and energy-saving, suitable for 1kg (water) personal laundry.
Lightweight and portable can be placed in pockets or tote bags to carry away.
Not only for T-shirts, shirts, and towels but also for jewelry, glasses, and other small items.
Specifications:
Color: white
Type optional: A, B(optional)
Main material: ABS
Power supply: USB
Input voltage: DC5V
Output voltage: DC10V
Rotation speed: 200 RPM
Output power: 6W
Item size: 90 * 90 * 40mm / 3.54 * 3.54 * 1.57in
Package size: 165 * 130 * 60mm / 6.50 * 2.36in
Item weight:
A: 225g / 7.94ounces
B: 179g / 6.31ounces
Package weight:
A: 310g / 10.93ounces
B: 264g / 9.31ounces
Package List:
1 * Mini Washing Machine
---
Style 3/ Style 4:
Features:
4 functions: cycle cleaning, forward & reverse cleaning, vibration cleaning, and bubble cleaning.
Suitable for various clothing: T-shirts, pet clothing, scarves, socks, underwear, socks, gloves, etc.
Cycle cleaning for 6 times, fast & effective washing for 30 mins.
2 versions for choice: automatic cycle cleaning version and 4-speed adjustable version.
Simple operation. Automatically power off when the washing is done.
Small size and lightweight. Easy to carry. It just occupies a little space. A nice choice for travel or business trip.
Specifications: 
Material: ABS+Electronic Components
Item Color: White
Style: 2 Styles(Optional)
Style 1: 4-Speed Adjustable Version
Style 2: Automatic Cycle Cleaning Version
Voltage: 12V
Wattage: 24W
Package Weight: 463g / 16.33oz
Package Size: 165 * 150 * 105mm / 6.5 * 5.9 * 4.1in
Packing List:
1 * Mini Washing Machine
---
Rinse And Wash With Ease
Our Wonder Washer machine adopts an integrated mini style wash!
Perfect For When You Are Away
With a Small and Compact Design, it fits comfortably in backpacks, suitcases, sinks, or tables that require less space.
Stain Removing Emulsification
This powerful dishwasher has 4 stages: cleaning, high-frequency, vibration, and cavitation!
Oxidation Bubble
High-pressure water creates thousands of bubbles to burst into the water, which can easily clean dishes or clothes!
How it Works
The sonic sterilization produces micro-scale pressure bubbles to generate mechanical waves, causing stubborn dirt to disappear!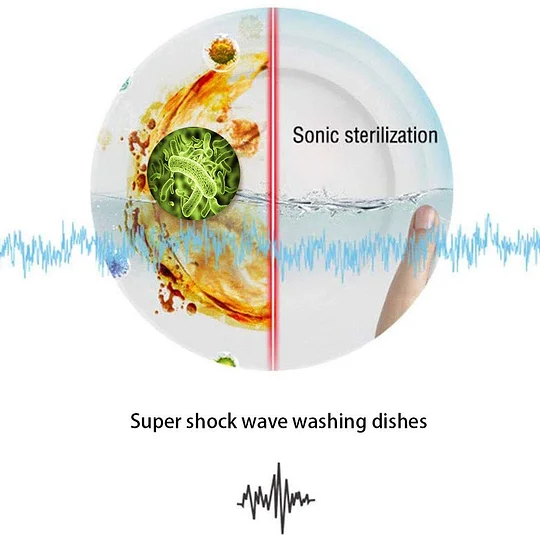 Water & Energy Saving
The Portable Washing Machine doesn't only save a third o the water, they also converse energy!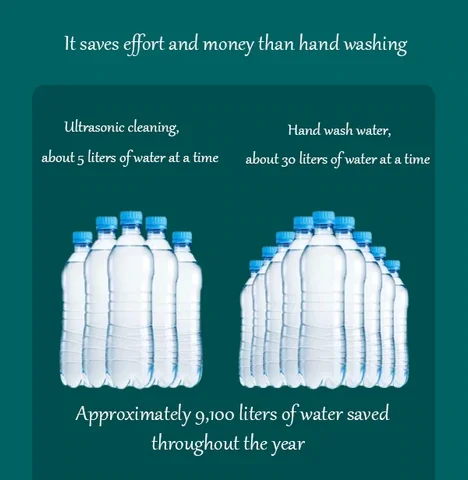 Versatile Cleaning
Our Washing machine effectively cleans pesticides and bacteria on all fruits and vegetables!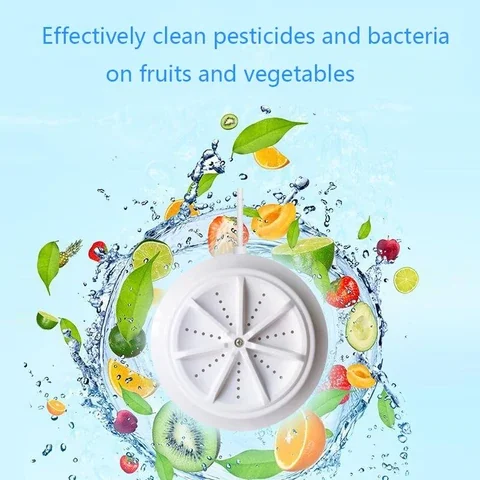 USB Power Supply
Mini Washing Machine is recharged via USB that features bubble spray, 2D flow, immersion cleaning, and ultrasonic waves.